Just a few short years ago, the performance UTV category wasn't even a thing. Now, the choices are bountiful, plentiful and prevalent. The woods, dunes and trails are full of incredible high-performance machines, but rest assured that there are more arriving in the near future. You can bet your last dollar that manufacturers are not only focused on the incremental evolution of their current high-performance UTV, but they're also hard at work on their replacement.
Yamaha YXZ1000R SS SE
MSRP: $20,599, plus $775 destination fee
Engine: 998cc liquid-cooled DOHC inline 3-cylinder
Transmission: Yamaha Sport Shift paddle shifter with sequential 5-speed transmission
Tire Size: 29" Maxxis M917 and M918
Suspension Travel: 16.2" (F), 17" (R)
Width: 64"
Wheelbase: 90.5"
Ground Clearance: 13.2"
Weight: 1,563 lb. wet
Warranty: 6-month limited factory warranty
When it comes to value versus performance, it's pretty tough to beat the YXZ. In the Sport Shift (SS) flavor, rolling through the gears is as easy as the flick of a wrist. This year, Yamaha went back to the drawing board and made some significant positive changes to the YXZ. New lower gear ratios make woods riding easier, and some beefed-up engine internals make adding an aftermarket Yamaha turbo charger easy-peasy-lemon-squeezy! The radiator has now been moved behind the cabin to keep the radiator cleaner and more protected. With Yamaha's proven durability, the YXZ1000R SS SE is better than ever.
Honda Talon 1000R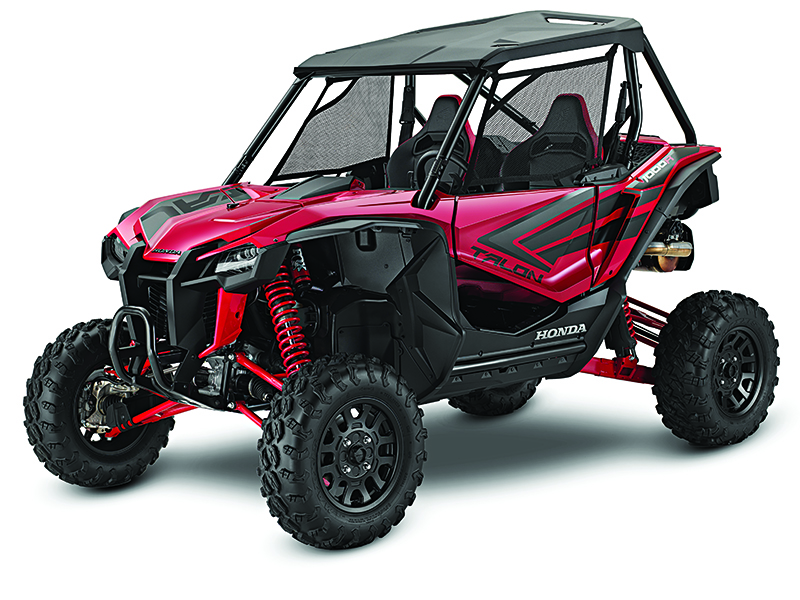 MSRP: $20,999, plus $940 destination fee
Engine: 999cc liquid-cooled unicam parallel twin-cylinder
Transmission: 6-speed automatic ­dual-clutch transmission (DCT) with high/low sub-transmission
Tire Size: 28"
Suspension Travel: 17.7" (F), 20.1" (R)
Width: 68.4"
Wheelbase: 92.7"
Ground Clearance: 13"
Weight: 1,545 lb. wet
Warranty: 1-year limited factory warranty
For years, there were rumors of Honda releasing a new sport UTV. However, year after year, those rumors were proved to be fake news. For model year 2019, Honda finally pulled the trigger and released a pair of Talons (1000R and 1000X). The baddest of the two is the Talon 1000R, which hits the trails with a width of 68.4 inches. Powering the Talon is Honda's awesome parallel twin-cylinder that has tons of torque and loves to rev. The DCT transmission can either be run in auto mode, where the code masters at Honda have figured out an algorithm to let the Talon do the shifting on its own; or, just as quickly, the pilot can roll through the gears on their own via integrated paddle shifters. The Honda Talon was a long wait, but the wait was well worth it.
Can-Am Maverick X3 X RS Turbo RR
MSRP: $27,499
Engine: 195 hp Rotac ACE 900cc turbocharged triple-cylinder
Transmission: Quick Response System X (QRS-X) Continuously Variable Transmission (CVT)
Tire Size: 30" Maxxis Bighorn 2.0
Suspension Travel: 22" (F), 24" (R)
Width: 72.7"
Wheelbase: 102"
Ground Clearance: 16"
Weight: 1,627 lb. dry
Warranty: 6-month limited factory warranty
If you're an off-road numbers guy, Can-Am's baddest Maverick X3 should make your head spin. It boasts 195 hp, nearly 2 feet of suspension travel front and rear, 30-inch Maxxis tires, and enough ground clearance to drive over and through the gnarliest trail obstacles.
Polaris RZR XP Turbo S
MSRP: $28,199
Engine: 168 hp ProStar Turbo 925cc twin-cylinder
Transmission: Automatic CVT with Xtreme Performance On-Demand True AWD/2WD
Tire Size: 32" ITP Coyote
Suspension Travel: 25" (F), 25" (R)
Width: 72"
Wheelbase: 90"
Ground Clearance: 16"
Weight: 1,751lb. dry
Warranty: 6-month limited factory warranty
The Polaris RZR XP Turbo S is not only Polaris' highest-performance offering, but it's at the top of the performance charts compared with the other brands as well. In addition to the turbocharged powerplant and stock 32-inch tires mounted on 15-inch wheels, the Turbo S also utilizes a Dynamix Active Suspension System with electronically controlled damping.
Arctic Cat Wildcat XX
MSRP: $18,899
Engine: 998cc three cylinder with 130 hp
Transmission: Continuously Variable Transmission (CVT)
Tire Size: 30" CST Bohemoth Tires
Suspension Travel: 18" (F), 18" (R)
Width: 64"
Wheelbase: 95"
Ground Clearance: 14"
Weight: 1,816 lb. dry weight
Warranty: 6-month limited factory warranty
The Arctic Cat Wildcat XX is a serious off-road machine that has a foot and a half of suspension travel and a torquey inline triple-cylinder powerplant, linked to a CVT transmission. Originally offered as an Arctic Cat, the name changed to Textron, and now ultimately back to Arctic Cat. Don't let the name game give you any doubts—the Wildcat XX is a beast.