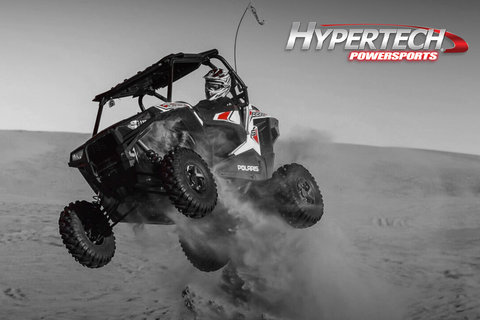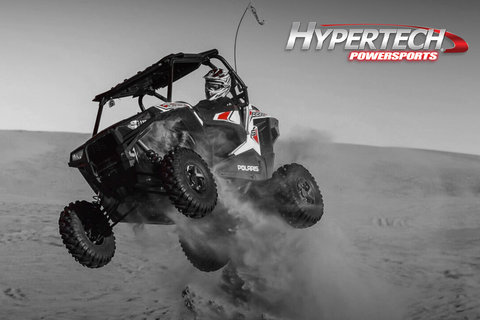 Hypertech is well known for its performance tuners for trucks and Powersports, but they can also help accessorize Polaris RZRs. Hypertech has a full line of products to help outfit a RZR before hitting the dirt.
Starting on the inside, Hypertech offers harnesses, door bags with padding, and a Rip-It Pistol Grip Shifter. The Rip-It Pistol Grip Shifter is constructed of high-strength 7075 aircraft aluminum alloy and has a lock-out gate that allows for precise shifts between low and reverse when needed.
Moving to the vehicle's exterior, Hypertech offers limit straps to help keep the suspension from over-extending, a blow-off valve, and replacement ball joints. Hypertech offers an Xtreme ball joint and a heavy-duty 4340 ball joint.
The Xtreme ball joint is built to withstand the abuse the RZR sees in the dirt. Unlike factory ball joints, it is designed with minimal retention bolt shaft recess, maintaining the shaft's strength. The Xtreme ball joints feature a two-part design that clamps around the control arm and eliminates the factory c-clip retainer. An adjustable ball joint cup allows the ball and socket junction to be retightened.
The heavy-duty ball joint is an upgrade over the factory ball joint. They have an adjustable ball joint cup, heavy-duty dust boot, grease fitting, and a new C-clip retainer for longevity. A removable lower snap ring and lock pin allow the ball and socket junction to be retightened. This complete kit has everything necessary to quickly and easily change ball joints anywhere.
To keep you safe on the trail Hypertech also offers a tire repair kit and a recovery kit designed for UTVs. The recovery kit includes a tow rope, soft shackle, recovery gloves, storage bag, tree saver, bow shackle, and a snatch block.
For more information on Hypertech's line of RZR accessories, be sure to check out their website.